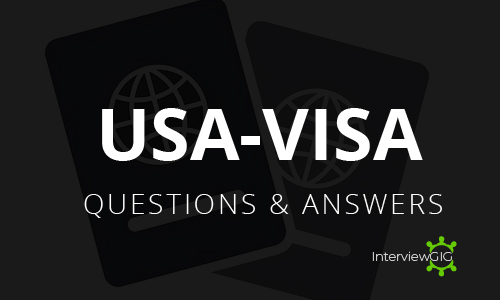 Other Important Questions Usually Asked
Did you do TOEFL/GRE/IELTS what are the scores?

What Institutions did you apply to?

How many universities did you apply for?

Why did you select this/these universities?

Tell me more about the university you selected?

What do you want study in the USA?

What is your field of study?

Have you received any loans?

Did you receive any scholarship?

Why do you think you need to go to USA to do this field, there are many courses and programs in your country, why do you need to go the U.S?

What are you planning to do after graduation?

Are you planning to work during your four-year period?
Important documents for US VISA Interview
Passport

Photography and Birth Certificate

I-20 Letter

All academic documents (Grade 10 to latest)

Completed application

TOEFL/IELTS score reports

GRE is you are a graduate student, and if you have done GRE -Educational documents

Bank statements (bank Balance certificate & Transaction (6 months preferred))

sponsorship Letter from Sponsor

Other documents to show strong ties to your home country (Property in your name, parents' information, income tax documents)

Work Experience (If any)

CA Report

Police Report

Fee Receipt (SEVIS Fee Receipt)
Students with Work Experience
Employment Letter

Your Salary Slips

Letter of Recommendation

Income Tax Returns papers

Original documents showing work accomplished
Requirements for USA Work Visas
Depending on the US work visa type you apply for, you might have to submit some of the following documents:
Proof you meet the qualifications (diplomas and Any certifications)

Proof of professional Any degree (Bachelor, Master, Doctorate)

Job offer by a US employer

Your Resume or CV

Letter from previous employers

State License (if applicable)

Proof that you have extraordinary abilities

Additional Fees, etc.