Ways to Make Sure Your Resume Stands Out
Many job seekers will automatically think of writing a resume once they see a job advert. Some may have written it and stored it in their smart gadget, waiting for the right opportunity. When they hear of a vacancy, they edit according to the job description. Sometimes a vacancy can attract a mass of applicants. Therefore you need to devise a way to make the employer notice you.
We are in a competitive world; therefore, you need to be unique from the rest. The recruiter will not be able to identify you if you don't have an attractive CV. The first thing that will make the hiring manager notice you is the resume. You need to have a well-written CV. If you are not good at it, you can check online, where you will get a free resume builder. With the CV builder, you can come up with a professional resume.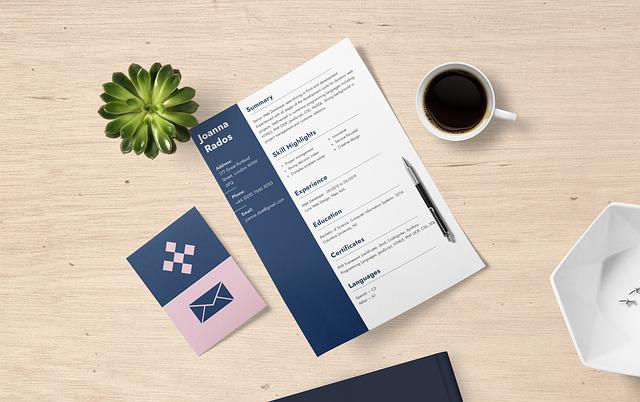 Below are some ways to make your CV stand out from the rest.
Write It Short
When writing a CV, keep it short unless you are after the executive positions. You can make it one page. On that single page, include your background information, skills, and experience for the advertised position. As you indicate, your experiences avoid stating jobs that are more than ten years in the past.
To make your CV short, you can embrace the usage of bullet points or combining sections.
Make it Fit the Role
Your CV should speak much about your skill and experience in that particular job. Make sure it answers everything the recruiter is looking for. Avoid adding some irrelevant careers. It would be wise if you only added job experience that lies in the same field as the one you are applying for.
A CV is the only tool that will convince the employer to shortlist you; therefore, let it demonstrate why you are the preferred candidate for that particular position.
Develop a Readable Resume
Create a resume free from graphics, pie charts, tables and illustrations. Some recruiters tend to use CV-scanning software, whereby it will be hard for it to read your resume once you've included the stated components.
Additionally, embrace simple fonts, like Times New Roman, Aria and Helvetica. These fonts are pretty easy to read. Still, on readability, make it a habit of using clear headings. You can make them stand out by bolding them, writing in caps, or using a different color.
Include Key Words
Your CV should have some magical elements in it. Incorporate some of the keywords used in the job description. By doing this, the employer will shortlist you for the interview as they will see you as a potential candidate.
Also, if the company uses the CV-scanning software, you will still excel since you have included the keywords.
Proofread Your CV
You don't want to submit a CV with some grammar and spelling errors. If you do, the employer will think you don't care about details. Therefore, you are not the right candidate for the job.
After writing your CV, take some time off; then, go through it again. Check if there are any errors. If you spot any, correct it accordingly. If you are not good at proofreading, you can ask a friend or a family member to help you out.
Save Your CV in PDF Format
When sending your CV via email, you should save it in PDF format. The good thing about this format is that it cannot be altered. Therefore, the employer will see your CV as you had submitted it.
Other formats may change, depending on the email server or program used. It would be best if you avoid that by sending it as a PDF attachment.
Use a Professional Email Address
When sending your CV, use a professional email address. Avoid using those addresses that you created when you were in high school. They are not appropriate.
If you have a long email address, create a new one that is simple and professional. For example, if your name is John Smith, you can have an email address, [email protected].
Attach a Cover Letter
When applying for a job, you should include a cover letter. The good thing about a cover letter is that it sells you more. In it, you can talk about your skills and experience.
A cover letter is an opportunity to sell yourself. Therefore, take advantage of it and include one when sending your CV.
Include a Link to Your Online Portfolio
If you have an online portfolio, don't forget to include the link in your CV. The employer would want to see some of your previous work. By including the link, they can access your portfolio with ease and see what you can do.
Highlight Your Achievements
When listing your experience, don't forget to include your achievements. Indicate how you added value to the company you were working for.
For example, you can mention how you increased sales by 20% or how you helped in reducing the company's expenditure by 15%. By doing this, you will make the employer notice you more.
Customize Your Resume
When you are applying for a job, you should customize your resume. Avoid sending the same resume to different companies.
Customize it according to the company you are applying to and the job description. By doing this, you will show the employer that you are the right candidate for the job.
Summary
The type of resume you create will determine whether you will land a call-up for the interview. Therefore when writing one, adhere to the essential features and include them. You can also hire someone with skills in creating professional resumes to do it on your behalf.