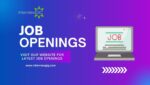 We are looking for an experienced MEAN Stack Developer to join our growing team. As a MEAN Stack Developer, you will be involved from conception to completion with projects that are technologically impressive. You will work closely with our team developers to ensure the best possible user experience for our customers.
Job Responsibilities
Analyze requirements from use cases and prioritize tasks needed for development
Design, Develop and unit test web applications.
Understand the architecture of existing solutions quickly and work on enhancements/bug-fixes.
Review and refactor code.
Excellent Debugging and Troubleshooting skills.
Be willing to learn new technologies and concepts.
Required Skills and Qualifications
3 to 4 years of experience in developing MongoDB, Express.js, Angular.js, and Node.js applications.
Strong understanding of HTML, JavaScript, CSS, Bootstrap.
Understanding of DB architecture design and programming templates, Agile methodologies, client-side and server-side procedures.
Proficiency in writing efficient, reusable, and testable code.
Experience in integrating third-party APIs and web services.
Good understanding of database schema design and data modeling.
Familiarity with version control systems such as Git and GitHub.
Experience in server management and dedicated server setup.
Excellent problem-solving and debugging skills.
Good communication and collaboration skills.
Positions
Education Qualifications
BE/B.Tech/M.Tech in Software Engineering
Or related field Degree/Certification.
Benefits and Perks
Exposure to Global Projects
Flexible Work Environment
5 Days Working Week
Leaves and Other Benefits
Package (Salary) Details
Based on the Interview and Technical Skills.
Location