Job Description Details:
1. Position: Officer / Jr. Officer / Associate / Executive
Department: Production / Process Engineering
Education: B.Sc, M.Sc. / B. Tech, Diploma
Experience: 3 to 10 Years (preferable).
Location: Ltd, Mandideep
Walk In Interview 2023 Details:
Date:- 30th Oct – 4th Nov' 2023
Time:- 10:30 am
Place:- Lupin Limited, New Industrial Area, Mandideep
Important Note for All Candidates:
Minimum 60% in Highest Education for candidates having experience of below 5 years.
Candidates already interviewed in last 06 months are not eligible.
Must Have worked in a regulated plant (USFDA / MHRA approved).
Must possess all Academics Certificates, Relieving letter from all previous Employers at the time of interview.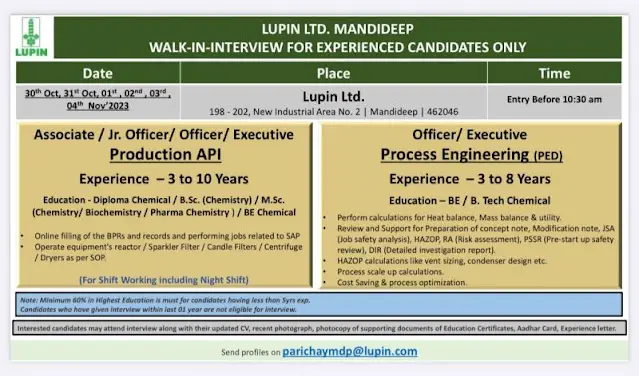 Disclaimer: The information provided here is collected from different sources. We do not take responsibility of its correctness and verification. We are merely collecting and providing you the access to this data. You are advised to use it solely on your own discretion.