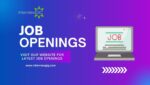 Hard Skills
Bachelor's degree (class of 2023) from top-tier engineering colleges in India or the US.
At least one internship working on the core product at an early-stage startup, you should be able to talk about the product you've helped build and deploy.
You should have executed an entire product lifecycle journey end-to-end as part of one of your internships or projects:

conception → coding → testing → deployment → monitoring

Proficient with at least one frontend technology along with HTML, CSS – JavaScript & ReactJS/VueJS.
Proficient with at least one backend technology – Java/Golang/Python/NodeJS/Ruby.
Experience working with any cloud solution provider – AWS/GCP/Azure/DigitalOcean.
Knowledge of codebases and version control systems (Git).
Well-versed in SQL database design & RDBMS concepts.
Strong arithmetic reasoning, logical and analytical thinking skills.
Knowledge of code quality maintenance and performance analysis.
 Soft Skills
Thoughtful problem-solving: We expect you to solve problems. Solving starts with a clear and accurate understanding of the context. You can decompose tricky problems and work towards a clean solution, by yourself or with teammates. You're comfortable asking for help when you get stuck.
Not ideological about technology: To you, technologies and programming languages are about tradeoffs. You may be opinionated, but you're not ideological and can learn new technologies as you go.
The right attitude toward a sense of urgency, risk, and ambiguity that comes naturally with working at an early-stage startup.
Clear communication skills so you can easily convey your thoughts, opinions, and feelings to customers and teammates.
Comfortable working in a fluid, growing organisation with minimal supervision.
 Bonus Points if you
Have a genuine passion for our mission – to solve climate change and its challenges.
Have interests outside of technology – could be in any unrelated field (design, sports, economics, business etc.)
 Why Work at Neufin
---
Aside from being a highly motivated, mission-driven organisation, we offer:
Highly competitive salaries including attractive stock options.
Flexibility to choose your days-in-office (if not remote) and working hours.
25-days paid leave every year + top-ups for key life events.
Unlimited sick leave.
Insurance for you and your spouse.
12% employer match for Provident Fund (PF) (maximum permissible limit).
A yearly learning allowance to learn a new skill / develop new talent.
A yearly allowance to use towards the improvement of your physical and mental health.