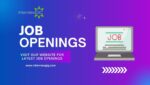 Job Description
About Groww
We are a passionate group of people focused on making financial services accessible to every Indian through a multi-product platform. Each day, we help millions of customers take charge of their financial journey. Customer obsession is in our DNA.  Every product, every design, every algorithm down to the tiniest detail is executed keeping the customers' needs and convenience in mind. Our people are our greatest strength. Everyone at Groww is driven by ownership, customer-centricity, integrity and the passion to constantly challenge the status quo.
Are you as passionate about defying conventions and creating something extraordinary as we are? Let's chat.
Our Vision
Every individual deserves the knowledge, tools, and confidence to make informed financial decisions. At Groww, we are making sure every Indian feels empowered to do so through a cutting-edge multi-product platform offering a variety of financial services. Our long-term vision is to become the trusted financial partner for millions of Indians.
Our Values
Our culture enables us to be what we are — India's fastest-growing financial services company. Everyone at Groww enjoys the autonomy and flexibility to bring their best work to the table, as well as craft a promising career for themselves.
The values that form our foundation are:
Radical customer centricity
Ownership-driven culture
Keeping everything simple
Long-term thinking
Complete transparency
Skills and Expertise
At Groww, customer-centricity is displayed in everything we do. We are obsessed with providing  a seamless experience for our customers. Regardless of the touchpoints, our Customer Success  Team ensures the customer finds what s/he needs in a fast and easy way. To make this happen,  we are looking for dynamic and energetic professionals with good communication skills who  demonstrate a customer-first attitude. This role is critical as it is the first point of call for the  customers.
Expectations from successful candidates are
1. Eagerness to learn about the company's products and their capabilities.
2. Ability to manage high volume of inbound customer queries.
3. Technical aptitude and the ability to understand and explain complex concepts in simple  terms.
4. Ability to empathize with the customer and high customer centricity.
5. Knowledge of other regional languages is helpful if the company works within the  country.
Responsibilities:
● Provide technical support and ad-hoc training to customers who use the company's product, replying to inbound queries.
● Ensure customers remain satisfied with the product by educating them about functional capabilities and possible upgrades.
● Aid with the development and improvement of the product by gathering feedback to identify recurring issues and addressing these with the product manager.
● Maintain excellent service standards, going above and beyond to ensure customer satisfaction and retention Preferred
Qualification
● Undergraduate courses (BCom, BBA, BBM, BA, B.Sc, MBA/ PGDM).
● 50% cutoff – 10th, 12th and Graduation.
● No backlogs and Gap years during education