Department: OSD Formulations – Production Department
Designation: OSD (Special Duties Officer)
Qualification: ITI / Diploma (Mech/EEE) / B.Sc. Chemistry, Passed out in 2020/21/22/23, Min 50% in all Academics, Age: 18-21 years
Experience: 0 – 1 yrs.
Location: Gandimaisamma, Hyderabad
Date of Interview: 29 August 2023
Time: 10:00 AM to 1:00 PM
Venue: Granules India Ltd, Gagillapur unit, Dundigal, Gandimaisamma, Hyderabad – 500043 PH: 08418696400/01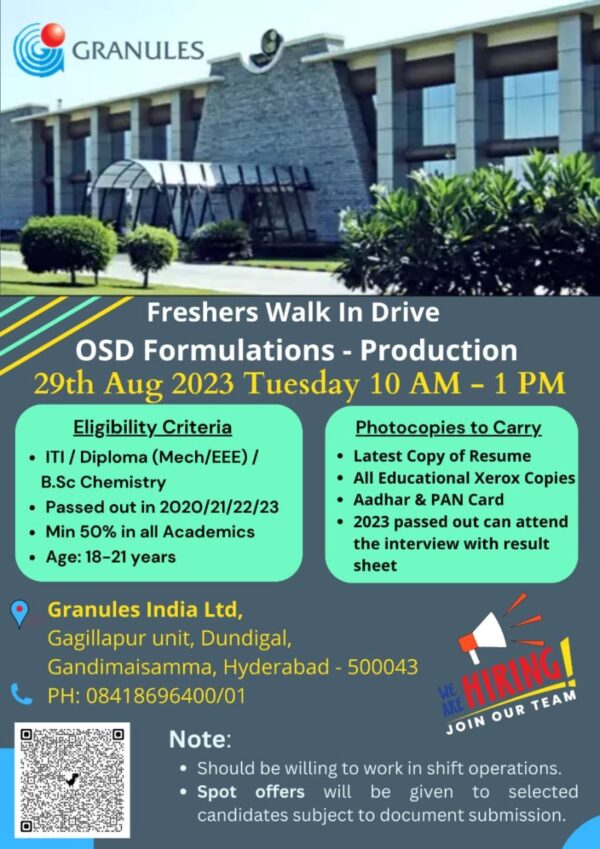 About the company : Granules India Limited is an Indian pharmaceutical manufacturing company based in Hyderabad, India. The Company manufactures tablets, Pharmaceutical Formulation Intermediates (PFIs) and active pharmaceutical ingredients (APIs) which are distributed in over 50 countries. Granules manufactures several off-patent drugs, including Paracetamol, Ibuprofen, Metformin and Guaifenesin, on a large scale for customers in the regulated and semi-regulated markets.