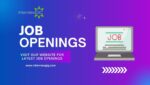 Job Description: QA Automation Engineer
Overall experience of 3+ years in Quality Assurance and Testing with relevant 2+ years hands on experience in UI Automation
Exposure to API Automated Testing of Financial application and web portals
Strong hands on in JavScript UI Automation using tools like CypressIO, Nightwatch, Protractor, WebdriverIO, Playwright & Automation framework development with HANDS-ON
Proficient in Java and JavaScript as programming language
Good experience in JavaScript/Typescript libraries JQuery, Ember, Angular
Expert in API testing (manual and automation) using Rest Assured frameworks
Exposure and know-how of performance testing and security testing tools
Knowledge of AWS / Cloud would be a plus
Should be self-driven engineer with desire to use practical and professional concepts in QA along with application of QA standards and procedures to resolve routine issues
Should be able to write use cases based on product requirements, execute them and report issues in bug tracking system
Should be self starter, lead and self contributing to the QA team to build robust and flexible Automated Testing Framework
Helps QA community to learn Automation, impart necessary technical knowledge
Hands-on current experience authoring, building and adopting large scale, cross-functional automation frameworks with well-balanced coverage across back-end integration, database levels, UI.
Integrate test automation into CI/CD process and instrument full SDLC automation, specifically cloud testing execution, reporting tools such as ALM, Jira
Improve process and quality via test and process automation: defining right strategy and technology based on process and architecture assessment by engaging different roles and stakeholders
Deep practical experience with cutting edge tools for Web, Mobile, Desktop, DB and Web-service testing (Selenium, SoapUI, etc.)
Experience using SQL with regard to writing and understanding queries and procedures
Responsibilities –
Define and establish automation strategy and process
Understand complex nature of the application and come up with the automation testing framework
Should understand the requirement, design and develop the automation test cases
Take ownership of QA requirements and provide testing guidance to the technology team
Should also work as Individual Contributor
Lead and coordinate the application enhancement and tech ops testing activities with technology and business teams
Participate in team communication and collaborate in planning activities, including stand-ups, iteration planning meetings (IPM), and retrospectives.
Manage and communicate regular updates on project status (e.g., work completed, work in progress, next steps, risks, quality, KPIs, and costs) to stakeholders, peers, Product managers, and others.
Mandatory Skill:
JavaScript UI Automation using tools like Cypress IO, Nightwatch, Protractor, WebdriverIO, Playwright
Morningstar is an equal opportunity employer!
I10_MstarIndiaPvtLtd Morningstar India Private Ltd. (Delhi) Legal Entity