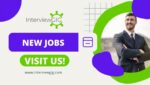 Job requirements
•    Strong programming skills in Go/Java/C++ with understanding of OOPS, as well as a scripting language (Python/Shell script)
•    Preferably with experience working in File systems, storage protocols, etc.
•    A strong understanding of data structures and programming practices
•    Should have excellent debugging skills
•    Strong oral and written communication skills.
•    The ability to work collaboratively within a team environment to meet aggressive goals and high-quality standards.
•    A strong aptitude for learning new technologies.
Education
Bachelor's or Master's degree and 0-3 years of related experience or equivalent work experience.