Entry Level
Full Time
Internship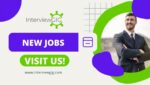 Company
Siemens Healthcare Private Limited
Organization
Siemens Healthineers
Job Family
Research & Development
Experience Level
Early Professional
Full Time / Part Time
Full-time
Remote vs Office
Office/Site Only
• Will be responsible to create state of the art technology prototypes and actively contributing to innovation streams
• Wil actively contribute to software design for realizing optimal solutions in our product offerings.
• Will be responsible for the implementation of features, while adhering to highest coding and quality standards
• Will be responsible creating and reviewing relevant specifications while conforming to defined processes
• Have basic knowhow of Test-Driven Development / Behavior-Driven Development and other extreme programming methods
• You should have familiarity of software engineering processes & methods.
• Have thorough understanding of OOPS, design principles & patterns, inter-process communication, multi-threading and data-structures.