Department: Production
Qualification: B.Sc/ ITI/ Diploma More Than 50% in all academics
Experience: Freshers
Passed out years: 2020/ 21/ 22/ 23
Age Limit: 20 to 23 years
Date: 29th August 2023
Time: 10:00 AM to 01:00 PM
Venue: Granules India Limited, Gagillapur Unit, Village, Dundigal, Gandimaisamma -Mandal, Hyderabad, Telangana 500 043
Contact No: 08418306400 / 08418696401
Candidates can attend who willing to work in Shift Operations.
Spot Offers will be given to selected Candidates (Subject to above mentioned photocopies submission).
Kindly Carry the below Documents with you:
Current Increment Letter
Last 3 months Pay Slips
Educational Certificates (Mark Memos)
Previous Employment service certificates
Latest copy of resume
Pan & Aadhar
Photograph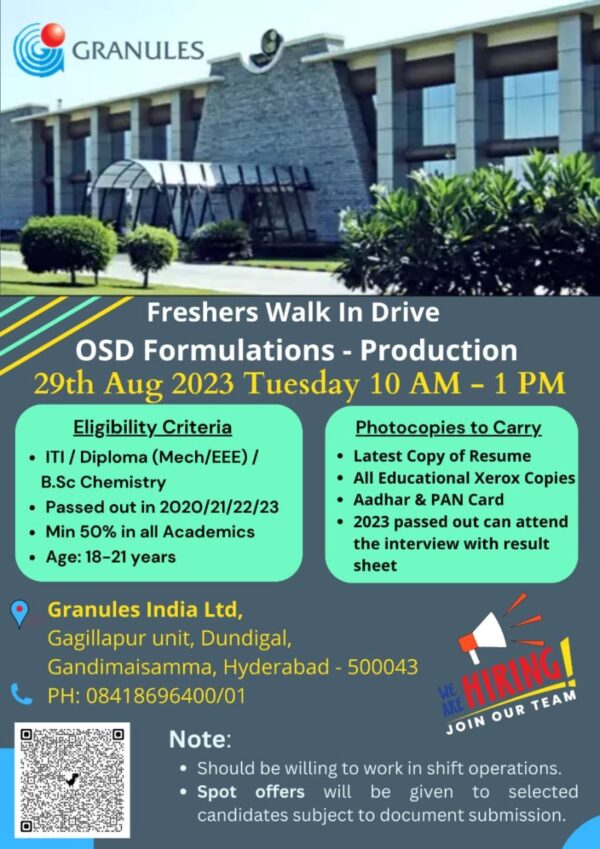 About the company : Granules India Limited is an Indian pharmaceutical manufacturing company based in Hyderabad, India. The Company manufactures tablets, Pharmaceutical Formulation Intermediates (PFIs) and active pharmaceutical ingredients (APIs) which are distributed in over 50 countries. Granules manufactures several off-patent drugs, including Paracetamol, Ibuprofen, Metformin and Guaifenesin, on a large scale for customers in the regulated and semi-regulated markets.